50th ANNIVERSARY CUP & SA DISTANCE CHAMPIONSHIP
On Friday night our industry celebrated 50 years of racing at Angle Park with a very special race meeting featuring the prestigious SA Distance Championship and the 50th Anniversary Cup final worth $50,000 to the winning connections.
With inclement weather for the start of our meeting there was a genuine reason for the crowds not to flock in, however, that was far from the case as there was a line up before the roller door opened and old and young persons alike poured in to celebrate this special night. It wasn't the 10,000 people that were on course for out first meeting on 20th April 1972 however early indications are that the numbers surpassed our Group 1 Adelaide Cup meeting which is held every October.
The 50th Anniversary celebrations was a fun night for the whole family who took full advantage of the updated facilities.  There were plenty of activities for the kids including face painters, Greyhound As Pets were on course providing the patrons an opportunity to get up close and personal with our four legged retired athletes. The food trucks did a roaring trade along with live music in the trackside marque.
To celebrate this special milestone of racing at Angle Park a book was released to recognise the past 50 years authored by Ray Fewings called "Chasing A Dream" which was extremely well received by all concerned. Also on the night there was recognition for superstar chaser Brett Lee which helped enhance Angle Park's status with his 28.88 track record in the 2001 Group 1 Adelaide Cup with a life size sculpture by sculptor Ken Martin unveiled.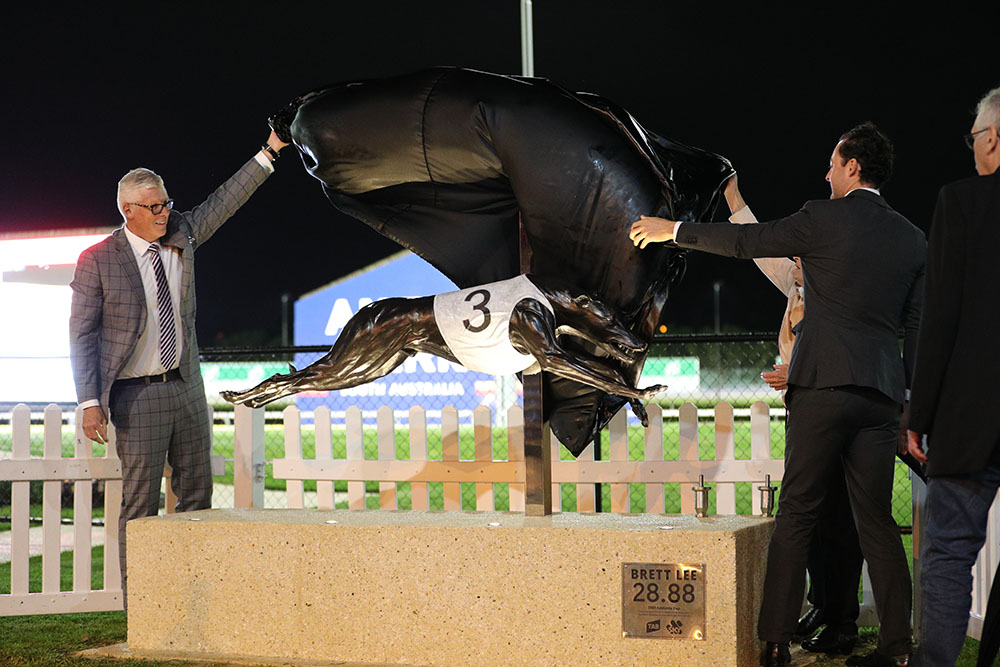 Our two feature races were fitting finals with both producing wonderful races and many story lines that will last for another 50 years.
In the SA Distance Championship final, heat winners Victa Haydn for Tony Rasmussen and Weblec Star for Neville Loechel were initially equal favourites with former track record holder Lashes Monelli for Tim Aloisi in pre race markets however as we neared starting time there was a weight of support for both Lashes Monelli and Victa Haydn seeing them both backed into equal favouritism for the staying feature.
As the start was affected Victa Haydn bounced out really  well from his inside draw and pushed hard to withstand the early challenge from New Year Tears for Clint Trengove and Sebon Panther for Tony Nobes to drive up and lead. Weblec Star also had a good start and raced up four wide of the back straight on the first occasion while Lashes Monelli landed in a good spot midfield however copped a check seeing her loose a number of lengths in the early part of the race. Into the front straight and Victa Haydn on the rails, Sebon Panther in the middle and Webec Star sweeping up out wide had opened up a decent break on their rivals due to a shuffling up of runners in the second half of the field. Out of the front straight and Victa Haydn used his exceptional sprinting speed to lead clearly form Weblec Star who was battling out second with Sebon Panther and then a gap to New Year Tears and Mr. Ibrox for Shelley Trengove. There was another gap to Lashes Monelli who found herself to far back to make an impact after her early trouble. As the quality field of stayers raced down the back straight Victa Haydn was out full of running by a number of lengths with Weblec Star moving to a clear second and giving strong chase. Sebon Panther was holding onto third as Mr. Ibrox closed in. Turning for home and it looked a race in two with Victa Haydn in control however Weblec Star lifted herself for one final dive at the line. To the roars of the crowd Weblec Star powered home over the top of Victa Haydn to win by a head in a slick 42.90 over the 730m journey as they cleared out from their rivals with over 7 lengths back to Sebon Panther who clung on for a determined third just ahead of Mr. Ibrox and New Year Tears.
Weblec Star is by Mepunga Balzer out of Weblec Belle and is owned by the Weblang Syndicate managed by Angel Langton, she now has the record of 63 starts with 16 wins and 25 minor placings and prizemoney around $63,000.
The joint feature of the night was the 50th running of the Anniversary Cup Final which saw the best sprinters assembled to race for the $50k first prize and a significant part of the Angle Park history.
After last weeks heats and then the box draw the high quality field was one of the most open Cups in history with Interstate raider Auspicious Queen for Paul Abela, Eastar Match Race winner Fantastic Victor for Ossie Chegia and SA Sprint Champion Stout Monelli all sent out the favourites with the start all important. As the boxes flew open last weeks surprise heat winner Threaten again began brilliantly for trainer Ben Rawlings to lead to the winning post with Mallee Magic for Tony Rasmussen also beginning well to challenge followed by Auspicious Queen and Stout Monelli while the remaining greyhounds jostled for position.
Into the back straight and Threaten was out full of running with Auspicious Queen closing in along the rails and Mallee Magic coming into the race back in third.  Howling Hoss for Shelley Trengove, Stout Monelli and Fantastic Victor tried to make ground from off the track. Off the back straight and Threaten was still in the lead however looming large on his outside was Mallee Magic while, Auspicious Queen persisted for clear running as they broke away from their rivals. On the bend prior to turning for home the SA Derby Winner Mallee Magic raced past Threaten to hit the lead and looked all over a winner as he raced into the front straight. Clearing out from his rivals he dominated the later part of the race to go on and win by 2.50 lengths from Auspicious Queen who ran into a clear second from a gallant Threaten who held on well for third just ahead of Stout Monelli. Mallee Magic ran a sizzling 30.32 for the 530m journey and showed his dominance at the highest level to take the win on an historic night.
Mallee Magic is by Worm Burner out of Bells Are Ringin and is owned by Cameron Butcher, he now has the impressive record of 28 starts with 14 wins and 5 minor placings and prizemoney around $117,000.
GRSA appreciates the continued support of GRVIC and Sky Racing in regard to enabling the Friday night timeslot so we could celebrate the Angle Park 50 year history.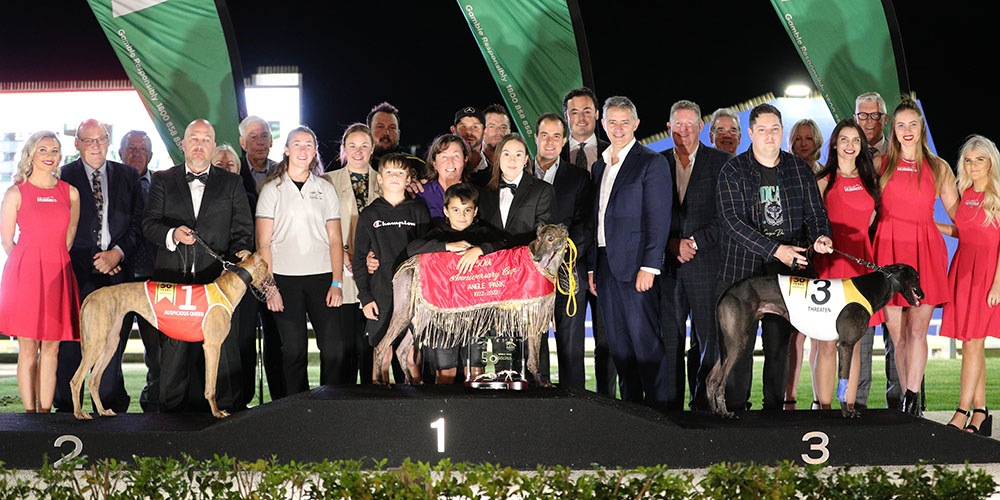 Video recap of the night